Well Quidditch has another competition going on this week, the crochet sock challenge! And yet again Gryffindor showed our broom speed by being the first to turn in,
Quidditch Captain MindySue got first place over all and won 49 points.
Next Gryffindor was autumnleaf77 taking 6th place and 44 points.
Then came stitchywitchy with a 9th place finish and 41 points.
Then AnnaMarya finished up in 16th place earning 34 points.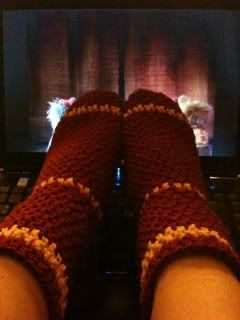 And in 23rd place getting Gryffindor and 27 points is clmnj58.
I love the sleeping dog in the background, reminds me of my house.
Right behind her in 24th place with 26 points is kimanneberly
So far the Gryffindor's have had a fabulous showing, and I bet everything else to cross the finish line will be just as great.
ROAR
ROAR
GRYFFINDOR!!